Here is the next installment of my mini-blogging series that I have been posting on Instagram and Facebook since May.
NOTES FROM A PANDEMIC 7/27/2020: It's Hogwarts week at Writers & Books. This is one of my favorite weeks of the year. However, due to an unusual illness impacting wizarding and muggle families alike we were unable to be AT Hogwarts, but we were able to work with Arthur Weasley to link the Floo Network—head only, to Zoom technology, creating the Floom Network, so students could attend their classes at a safe distance without having to keep their heads in the fireplace for the duration of their lessons. Dumbledore even assured the students that they needn't worry that Olivander's was closed and some of them may not have been able to get a wand—he reminded them that wizards channel the magic through themselves and that even wands resembling a stick or pencil would be sufficient for their magic. We had to break ties with the Daily Prophet this year because it is no longer a reliable source of information. Instead the students are working with Luna and Pandora Lovegood, learning about journalistic integrity, and producing an issue of the Daily Quibbler each day this week. One of the stories in today's Quibbler is by a student who has attended Hogwarts many years, and indicated that this is the first place he felt accepted as a trans student. (And yes, some of our groups are talking about what it means when an author whose work you admire so much does something so completely against the core of your values). Other students wrote articles about self-care, as well as sightings of a three-headed dog, and new flavors of Bertie Botts beans. Many among our staff and professors questioned how we could possibly pull this camp off as a virtual experience. The magic is real. I am so moved by the incredible dedication and work of my staff and professors and prefects to pull this off. The way a group of kids, teens, and adults can rally together and explore a piece of literature from so many angles, find the metaphor that reflects their own experience, find the joy and the magic. My heart is full.
NOTES FROM A PANDEMIC 8/13/2020: In a another world we were supposed to be at the ocean this week, but instead we took a staycation last week. I stayed away from social media and the news, and pretty much screens altogether. We truly unplugged from our regular day-to-day. I read a lot. We ate our favorite ice creams every day. And lots of other delicious food we cooked. We took many day trips to places mostly 45 minutes to an hour from our house. We swam a little, we breathed a lot of fresh air, we saw a few special people. I really missed the vacating part of vacation, and especially the ocean (and I acknowledge all the privilege wrapped up in what our plans were supposed to be and what they turned out to be and how "missing vacation" is so low on the list of things wrong in the world). However, this time renewed my understanding of what an incredibly beautiful part of the country we live in. We ventured out mostly in the Finger Lakes region, but also along Lake Ontario. And we found some really special spots. We could have mini, one-day vacations right here, practically in our own backyard all the time. Grateful for the time, the land and water, and these people I love.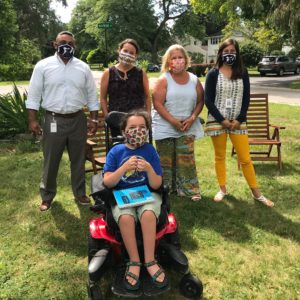 NOTES FROM A PANDEMIC 8/19/2020: Yesterday the school psychologist, counselor, vice principal, and brand new principal came to our front yard for a meeting. Not even a formal meeting to lay the groundwork for Oscar's plan for 7th grade (because just weeks away from starting they are still determining key elements of how the school year will look—my heart goes out to administrators and educators right now!). More of a check-in. We are all so grateful for this team of people who were nothing short of amazing in Oscar's transition to middle school last year. Oscar will be starting his 7th grade year fully remote. Our district offered the option of hybrid (2 days/week in person, 3 days at home) or full remote. For us, we knew we had to keep Oscar home. We are hopeful for real connection, as 2/3 of learning will be happening with other remote learners and teachers through Zoom. These are strange times, and I firmly believe the most important learning our kids are doing in these times is not academic at all, but learning more about being human when our perceptions of how things should be are challenged.
NOTES FROM A PANDEMIC 9/10/2020: First, I have to say, it is hard for me to think of posting anything from my personal life on social media because of the events in Rochester, #justicefordanielprude #BlackLivesMatter, over the last week (and months). But I do want to take a moment to acknowledge this momentous occasion in our family: First day of SEVENTH grade. Full remote. So many unknowns heading into this school year left us all with some frayed nerves, and last night when we could have been taking some deep breaths, we found ourselves yelling at one another (not a proud moment, but a human one). Oscar's first day went better than any of us could have imagined, zooming with all of his teachers today (each class will have approximately 3 zoom classes per week with 2 days of independent activities). I tried to give Oscar as much independence and privacy as I could, but partway through first period he called out to me, "My ELA teacher is AWESOME!" Day one she was already strategizing to get the kids socially engaged, and made it clear she'd be there to support them in connecting with one another, both in and outside of class. Oscar has a free period in the middle of the morning and we took a long walk together—finally, a way to get much needed recess in middle school! At the end of the day Oscar said, "That felt like school!" In a positive way, in contrast to "crisis education" in the spring. And at the end of the day he hung out outside with a close friend who is also doing all remote school. I have no doubt there will be many challenges this school year, some I can guess now, others will catch us off-guard. But right now I am feeling gratitude for how well things started—with a group of teachers who just got their class rosters yesterday. Nothing about this is ideal—hell we're in the midst of a global pandemic—but I do believe there will be some things to embrace along the way.
NOTES FROM A PANDEMIC 9/17/2020: Look who I got to have as an office mate today! The back porch has been my office for the last 4 months (which has been such a saving grace), and today David worked across the table from me. He is now working from home one day a week. We were so happy to have him in our office/school!
NOTES FROM A PANDEMIC 10/3/2020: Since Oscar is doing school fully remotely I have set up his bell schedule as a series of alarms on my phone. Wednesday follows a different schedule, hence the great number of alarms. Often one Zoom ends and he simply jumps on to the next, but when he has an asynchronous class sandwiched between two Zooms or one teacher happens to end class a little early, it's easy for him to get caught up and be late to his next class. This has been a great tool. Not that I love hearing that loud alarm every 40 minutes, soon I'll probably start hearing it in my sleep! It's important to me to leave Oscar to his own devices as much has possible while he is "in" school. He would have that independence if he were there in person, so he wears a headset and I stay out of the room the vast majority of the time. But he is also used to having friends sitting next to him that he can ask for help if he can't reach something, and an awesome aide who would help him with anything his friends couldn't. So I do have to be on alert to be that friend or aide all day, and the reality is I never get a moment where my attention isn't divided (except on Thursdays, now that David is working from home on Thursdays!). Some teachers tend to let the kids out of class a minute or two late, and so with a 3-minute passing period there is hardly time to click on the next Zoom link and get it to load before the next class starts. Oscar and his friends he has back-to-back classes with have started a game, "Race you to the next class," to see who can log out of one and into the next faster, which I love! All of his teachers are doing a great job presenting material in this most unusual format. Some teachers are being incredibly sensitive and thoughtful toward this all-remote learning experience. One is giving no homework whatsoever, he understands that by the end of the school day the kids have had more than enough screen time. And several of his teachers are providing time during class for kids to engage socially with each other, to chit chat the way they would be if they were in the school building. And at least one is working on creating social opportunities for groups pf kids during lunch, and other down times. This is a weird year, and while we're in a rhythm with some of it, other parts may never have a true rhythm.
NOTES FROM A PANDEMIC 10/6/2020: Two remarkable things happened today, both captured in this image. 1. Someone outside of the three of us (other than a plumber) came into our house today for the first time in nearly 7 months. 2. Oscar had in-person PT (vs video-conference) for the first time in nearly 7 months. I love the look of delight and surprise on both their faces. Oscar will continue to receive most of his PT via Zoom, 3x/week, but Heather, who Oscar has been working with since he was in kindergarten, and in normal times comes to our house about once a month, will resume her home visits with us—as long as state guidelines continue to allow it and as long as COVID numbers in our county remain low. It was a good bit of relief and reassurance to have her expertise in the mix again, to have a PT actually lay hands on Oscar.
NOTES FROM A PANDEMIC 10/12/2020 (photos from 10/10): Saturday Oscar turned 12. How do you celebrate a birthday during a pandemic? You let the birthday kid get woken up with honking horns outside his window because you are hanging a sign on the tree in front of your house that says, "Honk for Oscar's Birthday." Your neighbors leave a homemade banner in plain view right outside your front door. You thank your lucky stars for warm weather in October, with a good dose of sun—plus plenty of wind and a touch of rain to keep it interesting. You arrange for a surprise bike and car parade—which turned out to be tiny, but so perfect because of the very special people who showed up for it. You have cake and presents in the front yard with grandparents, aunt, uncle, cousin. You have three close friends over for a fire, but prepare the garage as a back-up because of the possible threat of rain, and end up partying like a wild, joy-filled crew of 12 year-olds, mostly in the garage.
The next day Oscar said he got some great presents, but the best present was to be able to be together with his three dear friends. He said it was the best birthday he's ever had.

NOTES FROM A PANDEMIC 10/16/2020: Ten years ago today we moved into our house. The living room is still my favorite room. Never before have I lived somewhere with such wide open space, such incredible natural light. Throughout the year after we moved in we said out loud (all three of us) at least a few times a week, "I love this house!" We had a lot of help to be able to be in this house. Dear friends held a benefit for us not long after we realized we would have to move to an accessible home. It was wildly successful and raised a down payment for us to be able to buy this house. I still have moments where I am stirred with a visceral vibration of gratitude for the unbelievable generosity of family, friends, acquaintances, and strangers that made it possible for us to be in this house. Including the friends and family who spent hours and hours in the weeks before we moved in helping paint, tear up carpet, re-plaster walls, clean, etc etc. Our home is an embodiment of "It takes a village…" Thank you thank you thank you to everyone who helped get us here. After ten years I still feel like I have not adequately expressed my gratitude. And who ever could have imagined that ten years later this amazing living room would also become Oscar's 7th grade classroom? That we would spend the amount of concentrated time at home we have in 2020? We are getting to know and love this home even more, re-envisioning how the different spaces can be used and lived in. Like so many families right now, we are exhausted, our patience is thin, we are feeling the weight of the looming changes in weather which will reduce our ability to socially engage, we have Zoom fatigue and we are sick of screens. But we are so grateful we have an amazing home to be holed up in…
NOTES FROM A PANDEMIC 10/25/2020: We voted today. I cried while filling out my ballot. At first I said I'd never cried while voting before. Then I realized I probably cried 4 years ago, from a feeling of empowerment. Today I cried because I finally understand that the results of an election can have life or death consequences. (Also, aside from doctors appointments—and voting in the primary for me—this is the only time Oscar and I have been indoors anywhere away from home since March).
Happy Halloween! Original artwork by Oscar.
NOTES FROM A PANDEMIC 11/15/2020: I made caramelized onion, pear, and Brie pizza for dinner tonight because sometimes when you're 8 months into a global pandemic with no clear end in sight and you're home all the time, and I mean ALL the time, why not a little decadence on a Sunday night for no particular reason?
NOTES FROM A PANDEMIC 11/23/2020: Quote of the day came from Oscar at 7:37 this morning, "Isn't it great that I'm not, like, three during the pandemic, so you can cuss as much as you want?"